Place of Interst
Sri Hemkund Sahib
Sri Hemkund Sahib is situated 4000 mt above sea level. The holy pilgrimage of Sikhs, HemkundSahib, is covered with snow capped mountains, giving it a mesmerizing look. The Sapt-Sring, seven hills, have surrounded the holy shrine and the lake. The lake's rocky shores are covered with snow through most of the year, but when the snows melt, the almost mythical yellow-green flower known as the Brahma Kamal, the `Lotus of the Gods', blooms amidst the rocks. It's a place of a rather wild and untamed beauty- and one of Sikkhism's most important shrines. The holy site has been considered a pilgrimage long before Guru Gobind Singh ji came here. It was previously called Lokpal, meaning 'Keeper of the World'. The place has been associated with the .....
More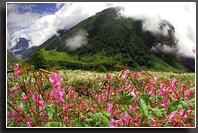 Valley Of Flowers
This U-shaped alpine valley, formed by retreating glaciers, remains snow-covered from November to May. When the ice thaws in June, the valley is rich with herbs, medicinal and flowering plants, which burst into a profusion of colour in July and August. The month between mid-July and mid-August is the ideal time to visit. The Valley got publicised as the Valley of Flowers when Frank S, Smith - mountaineer, explorer, botanist camped here for several weeks in the monsoon of 1937 and wrote a book, The Valley of Flowers. Because of the solitude, the Valley was used by sadhus during prolonged periods of meditation. The Valley has been associated with Lakshman, who is believed to have meditated on the banks of Hemkund. The 'Sanjeevani Buti.....
More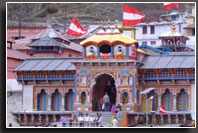 Shri Badrinath Ji
Badrinath or the abode of Lord Vishnu is situated at Chamoli district of Uttarakhand. Lying between the two monutains, Nar and Narayan, Badrinath is a majestic sight as well as the the most important of all the Char Dhams. The holy town is set at an altitude of 3,133 mts above sea level on the bank of the ice cold Alaknanda River flowing gracefully. The sacred town of Badrinath is visited by a large number of devotees to seek blessings and to get a glimpse of the famous temple of Shri Badrinathji. The entire town is painted with the colors of divinity. The heavenly setting makes the place even more attractive. Apart from the famous shrine of Badrinathji, other attractions like the Tapt Kunda, a natural thermal spring and Neelkanth peaks or the Garhwal Queens.....
More