About Ghangaria (Govind Dham)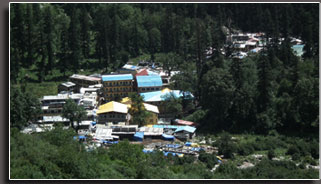 Ghangaria (Govind Dham)is a small village on the way to Hemkund Sahib, and a popular pilgrimage site for Sikhs about 6 km from here and the Valley of Flowers, a national park known for its variety of flowers about 3 km from here. It is located in the northern Himalayan ranges at an altitude of 3049 meters in Uttarakhand state of India. It is also known as Govinddham .
Ghangaria (Govind Dham) is situated on the bank of the river Lakshman Ganga. It is the last human habitation in this tiny valley. This place is usually used by travelers as a base camp to visit Hemkund and Valley of flowers. It is only open from May till September. The rest of the year the valley is covered under 8 feet of snow.
Ghangaria (Govind Dham) can be reached after a 13 km trek from Govindghat. One can also hire a porter or mule to avoid this strenuous trekking. There is no clear road, only a path made of rocks. Ghangaria has various hotels including one from the GMVN (Garhwal Mandal Vikas Nigam), restaurants serving Punjabi dishes, shops, camping grounds and a big Gurdwara to accommodate all the pilgrims. Only STD - PCO service is available.
In Ganghria (Govind Dham) The Larger River Pushpawati flowing from Rataban and Nilgiri Ranges across the Valley of Flowers, meets the Lakshman Ganga from Hemkund Lake (the glaciers of Haathi Parvat and SaptShring peaks forms this lake), from here Onwards River is known as Lakshman Ganga.

Ghangaria (Govind Dham) Tourism
Places to see in Ghangaria (Govind Dham) Valley of Flowers National Park is nestled in the west Himalayas covering an area of 87.50sqkms. It can be reached by a short trek of 4kms from Ghangaria. The valley is entirely covered with blooming flowers from June to October and with the sheets of snow during winters. The Valley of Flowers was declared as the national park in the year 1982 and it is now a world heritage site. The virgin beauty of this valley lures the botanists, nature lovers and adventure lovers as well.It is the home of over 500 species of wild flowers. Hemkund Sahib: The tenth Guru of the Sikhs, Guru Govind Singhji mediated at Hemkund Sahib for years.
The word Hemkund literally suggests Lake of snow& and the immaculate water of this lake is as cold as snow. Hemkund Saheb is located at an elevation of 4,329mts above sea level amidst several snow capped peaks, which are collectively called Hemkund Parvat. A star shaped gurudwara near the lake is visited by thousands of devotees every month. A temple dedicated to Lakshman, brother of Lord Rama is also located here. One must complete a trek of 6 km from Ghangharia to reach Hemkund Sahib. The best time to visit this place is from July to November.