Place of Interst
- Shri Badrinath Ji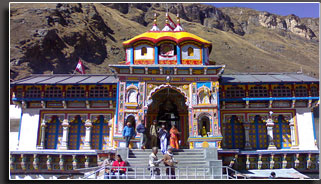 Badrinath or the abode of Lord Vishnu is situated at Chamoli district of Uttarakhand. Lying between the two monutains, Nar and Narayan, Badrinath is a majestic sight as well as the the most important of all the Char Dhams. The holy town is set at an altitude of 3,133 mts above sea level on the bank of the ice cold Alaknanda River flowing gracefully.
The sacred town of Badrinath is visited by a large number of devotees to seek blessings and to get a glimpse of the famous temple of Shri Badrinathji. The entire town is painted with the colors of divinity. The heavenly setting makes the place even more attractive. Apart from the famous shrine of Badrinathji, other attractions like the Tapt Kunda, a natural thermal spring and Neelkanth peaks or the Garhwal Queens, the snow-dipped mountain range are the major attractions of the pious town.
Badrinath is a magical blend of divinity and natural beauty. The most auspicious pilgrim spot of Hindus offer the thrill of conquering nature in freezing cold days and serves as the holy bridge which takes the visitors to heaven. Soak your sense in the inescapable spiritual aura and the breathtaking beauty of Neelkanth in its full glory under a full moon in Badrinath.
Accommodation :
Badrinath offers a good line of luxury and budget hotels. The accommodation offered by us includes world class facilities and services. The accommodation are ideally designed to make your stay more convenient and comfortable.
Hotels :-
Shankar Shri & Janki Guest House
How to Reach Badrinath
By Air :
Badrinath does not have any airport. The Jolly Grant Airport is the nearest airport in Dehradun. Plenty of airlines operate regular flights to Dehradun linking it to several cities in northern India.
By Road :
Though Badrinath is situated in the remote Garhwal Himalayas, the place has good road link.The road link between Rishikesh and Badrinath has good access with Delhi.

By Rail :
Badrinath does not have any railway station. Rishikesh is the nearest rail station only 300kms. There are plenty of good trains that link Rishikesh to various cities like Kolkata (Howrah),Delhi, Mumbai and Lucknow.